Immigration Process for Canada 2023
Immigration is the process through which individuals become permanent residents or citizens of another country. Historically, the process of immigration has been of great social, economic, and cultural benefit to states. The immigration experience is long and varied and has in many cases resulted in the development of multicultural societies; many modern states are characterized by a wide variety of cultures and ethnicities that have derived from previous periods of immigration.
Now would be the best time to learn how to immigrate to Canada in 2023 because the Canadian government has a goal of inviting 465,000 new immigrants as permanent residents and by preparing ahead you can increase your chances of being one of them.
Canada has increased their immigration targets again from the year 2023 to 2025. They offer almost 432,000 new immigrants this year instead of 411,000. Canada ranks among the best countries worldwide for quality of life and is known for its positive attitude toward immigration. Government Officials announced this on 14th February 2023.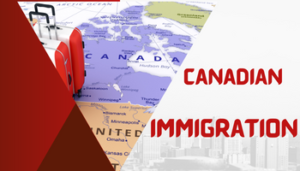 One of the easiest processes to immigrate to Canada will mostly depend upon your unique profile. There is no simple way to immigrate to Canada. Some programs may be easier for you to apply to, but the process is difficult and includes many steps. We discuss the following four popular ways for overseas applicants to immigrate to Canada in 2023.
Express Entry System
Provincial Nominee Programs
Business Immigration
Sponsorship Immigration
Express Entry System
One of the fastest and most popular programs of Canadian immigration is known as Express Entry, where applicants apply through the Express Entry System and can get permanent status in six months.
An online profile submission is included in The Express Entry System, which is scored by Canada's Comprehensive Ranking System (CRS). You must be eligible for the following three federal streams to submit that profile.
Federal Skilled Worker (FSW)
Canadian Experience Class (CES)
Federal Skille Trades (FST)
Canadian immigration for a single applicant through Express Entry System typically costs about 2,300 Canadian dollars; for a couple, it costs about 4,500 Canadian dollars.
Provincial Nominee Programs
By the end of 2022, Canada plans to welcome 83,500 new immigrants through PNPs, Canada's ten provinces, and three territories offer countless nominee programs, and each has its eligibility criteria. However, some programs invite overseas candidates to fulfill the Labour market according to the province's needs.
Canadian immigration through PNP usually costs the same as Express Entry with additional charges, depending on the province; some provinces don't charge a fee to process applications, while others can charge up to 15,00 Canadian dollars.
Business Immigration
If you are a Business owner and want to immigrate to Canada, then the easiest way could be through a federal or provisional business immigration program.
The Government offers immigration programs for persons who plan to start a business in Canada. The Business Immigration program needs your investments in the company you intend to start in Canada, and the amount required will depend on the program of your interest.
Sponsorship Immigration
If you have a family member who is a permanent resident or citizen of Canada, this is the easiest way for you to immigrate to Canada.
Note:
Interested candidates visit our website for more relevant or different jobs in Singapore, the United Kingdom, New Zealand, Canada, Pakistan, Oman, Qatar, etc. Our epaperjobz team is one moto that is this daily routine of picking the latest jobs on the official website and advertising on different social media platforms by proper apply patterns and sources. Our team advertises jobs like part-time, full-time, Freelancing, foreign countries, and newspapers with complete Applying sources.